Contoura® Vision is the latest customisation technology available for laser eye surgery.  VISTAeyes is the only clinic in Victoria to offer the Contoura® Vision treatment to provide a customised procedure.
What is the Contoura® Vision treatment?
Contoura® Vision is a topography guided vision correction treatment. It is the only treatment to precisely map 22,000 elevation points of the cornea to create a customised treatment unique to your vision correction. Irregular elevation points on the eye can disrupt the light entering your eye and prevent you from achieving optimal vision. These maps allow Contoura® Vision to create a customised vision correction treatment unique to your eye.
How does Contoura® Vision compare to other vision correction treatments available?
Many vision correction treatments just treat your spectacle prescription. Contoura® Vision technology allows for the vision correction to be personalised, based on individualised mapping of the contours (like a fingerprint) of your eye. The results of the FDA Clinical Trials have shown that this personalised treatment provides excellent visual outcomes,*with 93% of the patients achieving 20/20 vision or better1.
* Percentage change in Uncorrected Visual Acuity (UCVA)
1. Results of FDA T-CAT 001 clinical study for topographic-guided vision correction (with the 400Hz Allegretto Wave Eye-Q Excimer Laser)
Is everyone a candidate for Contoura® Vision?
The Wavelight® Suite offers a variety of vision correction treatments allowing your surgeon and surgical team to design a personalised treatment plan based on multiple measurements of your eyes and vision. The Wavelight® diagnostics suite takes multiple measurements, including topography maps as well as aberrometry maps of your eye. These maps, combined with your vision and prescription details, are used to decide which treatment option will provide you optimal visual outcomes. If this analysis indeed shows that Contoura® Vision will provide you the best visual outcomes, Contoura® Vision will be recommended. For some eye shapes and vision types your personalised treatment plan may recommend an alternative procedure.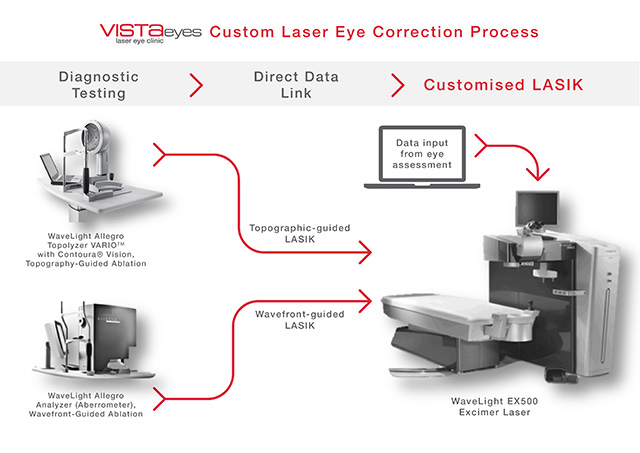 Read more about our Laser Eye Surgery Technology here
Need more information about Contoura® Vision?
Please contact us to book a consultation.
Please note that all products and procedures have a range of benefits and risks. All known risks will be discussed at your consultation.